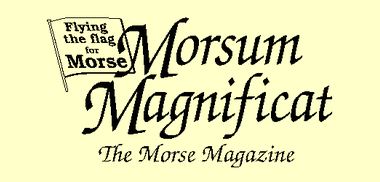 (Last update, Friday, April 21, 2017 09:33)
Morsum Magnificat© is a copyrighted publication. Zyg Nilski, G3OKD, the copyright holder, has generously granted permission for the download of these documents for personal use. This permission does NOT include downloading or distribution for commercial purposes.
These issues were scanned in 300DPI grayscale and are searchable PDFs. Adobe Acrobat® Reader is required to view these documents and can be downloaded here. To download them, click the issue cover.
Note: Issues 16, 21, 25, 29, 35, 41, 47, 53, 59, 65, 71, 77, 83 and 89 are index issues.
Return to the N7CFO Download page
Mike Feher, N4FS, has offered to provide the missing issues for scanning and Randy Cole, KN6W, will scan them on a book scanner. They should be available by mid-summer. Thanks Mike and Randy!
| | | | | | |
| --- | --- | --- | --- | --- | --- |
| | | MM 3 - Spring 1987 | | | |
| MM 7 | MM 8 | MM 9 | MM 10 | MM11 | MM 12 |
| MM 13 | MM 14 | MM 15 | MM 16 | MM 17 | MM 18 |
| | | | MM 22 Winter 1991 | MM 23 Spring 1992 | MM 24 - Summer 1992 |
| MM 25 - Autumn 1992 | | | | | |
| | | | | | |
| | | | | | |
| | | | | | |
| | | | | | |
| | | | | | |
| | | | | | |
| | | | | | |
| | | | | | |
| | | | | | |
| | | | | | |
Return to the N7CFO Download page